Have you missed me? I hope so, because I am back and I am going to be busy, busy, busy sewing and posting, and posting and sewing, since I have just joined in on Kelsey's 100 Day Hustle!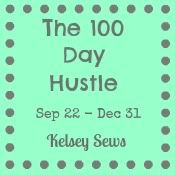 After an extended *ahem,* shall we say "vacation," and by that I mean madly preparing for my daughter's first birthday (post to come), sewing a dress for said daughter's said first birthday (post to come), getting sewing machine in for its first service in its 6 year life (yes, I've been neglectful), sewing a very belated wedding gift for my darling cousin and her new Aussie husband (post to come), and launching a new career as an independent Stella and Dot stylist (be sure to keep me in mind for all of those upcoming Christmas gifts!), I am back and ready to finish off 2012 with a little dance known as the hustle. Only this kind of hustle involves piles of thread, stacks of fabric, my dear sewing machine and some yarn.
I actually thought I was kind of getting caught up with all of my UFOs since I had decided not to start any new projects until I finished the ones I had already started. Being the serious ADD crafter I am, there tend to be a lot of great ideas and not so many follow throughs. So, even though seeing this list in writing may bring on an anxiety ridden snack attack, I'm willing to put it all out there for everyone to see, in hopes that you'll join me in the hustle!
TO DOs:
1. Finish niece's belated birthday quilt
2. Quilt and bind Do. Good Stitches' October quilt
3. Finish churn dash quilt (Christmas present)
4. Make zig zag AMH flannel quilt (for moi)
5. Make Field Study/Indie gathering flowers quilt (for moi)
6. Make portable car/train play mat for X's birthday
7. Finish Sherbet Pips quilt
8. Make October Do. Good Stitches blocks
9. Finish and frame ABC Daisychain Embroidery for C
10. Finish knitting To Infinity and Beyond cowl
Wish me luck! I'm gonna need it...